Job Overview
Postdoctoral Scholar – Biomedical Engineering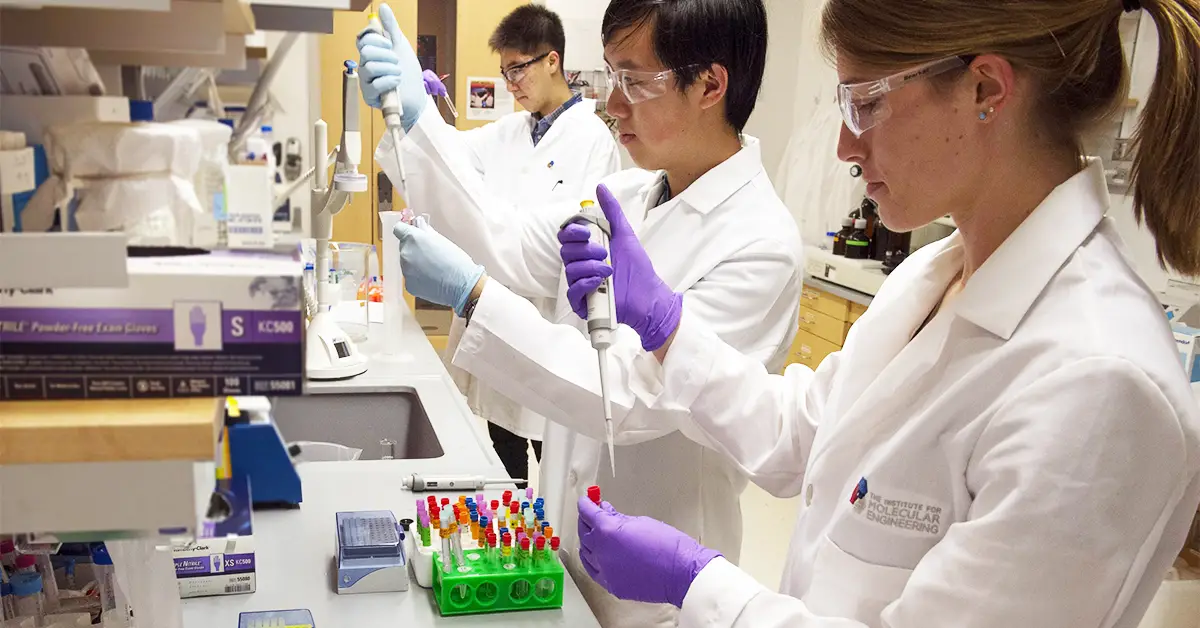 APPLICATION INSTRUCTIONS:
CURRENT PENN STATE STUDENT (not employed previously at the university) and seeking employment with Penn State, please login to Workday to complete the student application process. Please do not apply here, apply internally through Workday.
JOB DESCRIPTION AND POSITION REQUIREMENTS:
The Medina group (https://sites.psu.edu/medinalabgroup/) at The Pennsylvania State University has two open positions for Postdoctoral Scholars. Projects span a range of programmatic themes, including protein and peptide biophysics, molecular self-assembly and drug delivery technologies.
Open projects include:
1. Investigating protein thermostability using surface-assembled molecular dispersants. This project will develop chemical coatings that improve the thermal stability of proteins, without compromising their structure or function. We seek to create novel bioformulation strategies with the potential to transform protein storage paradigms.
2. Exploring the biochemical landscape of fluorinated biologics. Scholars will examine how fluorine atoms can be introduced into amino and nucleic acids to access new ways to alter the folding, stability, oligomerization propensity and bioactivity of peptides, proteins and DNA.
3. Exploiting the fluorous effect to create adaptive matter. We have recently uncovered the ability of organofluorine molecules to direct protein and DNA assembly into supramolecular microdomains with unique structural, thermodynamic and biochemical properties. Scholars will leverage these findings to rationally design fluorous biopharmaceuticals, gene editing technologies and bioresponsive materials.
The position will be in the Biomedical Engineering (BME) Department and affiliated with the Huck Institutes of the Life Sciences (http://www.huck.psu.edu) and Penn State Cancer Institute (https://cancer.psu.edu/). We offer a rich environment where faculty, postdocs, graduate students and undergraduate researchers regularly interact and collaborate. Scholars will have unrestricted access to our state-of-the-art core facilities to explore their emerging and interdisciplinary research interests.
Each position requires a Ph.D. by the time of appointment in Chemistry, Molecular Biology, Biomedical Engineering, or a related discipline. Preference will be given to candidates with expertise in fluorine chemistry, peptide synthesis, molecular self-assembly and biophysics. Additional expertise in molecular modeling is a plus. The duration of the appointment is for one year, with the possibility renewal depending on availability of funds.
Qualified candidates should apply online and include: a one-page cover letter detailing their research expertise, scientific interests and career goals, as well as a complete curriculum vitae with three professional references. For more information, please contact Dr. Scott Medina (shm126@psu.edu).
Penn State is committed to and accountable for advancing diversity, equity, and inclusion in all of its forms. We embrace individual uniqueness, foster a culture of inclusion that supports both broad and specific diversity initiatives, leverage the educational and institutional benefits of diversity, and engage all individuals to help them thrive. We value inclusion as a core strength and an essential element of our public service mission.
CAMPUS SECURITY CRIME STATISTICS:
Pursuant to the Jeanne Clery Disclosure of Campus Security Policy and Campus Crime Statistics Act and the Pennsylvania Act of 1988, Penn State publishes a combined Annual Security and Annual Fire Safety Report (ASR). The ASR includes crime statistics and institutional policies concerning campus security, such as those concerning alcohol and drug use, crime prevention, the reporting of crimes, sexual assault, and other matters. The ASR is available for review here.
Employment with the University will require successful completion of background check(s) in accordance with University policies.
Penn State is an equal opportunity, affirmative action employer, and is committed to providing employment opportunities to all qualified applications without regards to race, color, religion, age, sex, sexual orientation, gender identify, national origin, disability or protected veteran status. If you are unable to use our online application process due to an impairment or disability, please contact 814-865-1473.
University Park, PA
Job Detail
Offered Salary

Not Specified

Career Level

Not Specified

Qualification

Doctorate Degree (Ph.D.)