How to grab an internship opportunity in Singapore
How to grab an internship opportunity in Singapore
Why in Singapore?
Singapore is a small country that is filled with quite a lot of amazement where you get to experience the country's wow factors from the moment you step in. The most mesmerizing thing out of all to me was getting the opportunity to experience how they have combined their latest technologies and human skills to develop a modern lifestyle alongside their booming economy.
Singapore will grant you access to a wide range of internship opportunities varying from the information and technology industry, advertising industry, professional consulting firms, marketing agencies, fashion designing, business administration, and many more varieties of industry involvements. Since English is one of the official languages, it will be effortless for interns to fit into life in Singapore. Moreover, you will be able to learn how to professionally develop yourself aligning with the international job market using the experience gained in Singapore. Likewise, with the immense exposure that you will gain from working alongside well-disciplined and highly skilled people, you will be able to identify your true values and how to use them to achieve your future career goals.
How do I find an internship?
Finding an Internship in Singapore may seem difficult at first, but if you look into the correct path by contacting the right people, it is way easier than it seems. There are quite a lot of helping hands among us who could guide you on the correct path. Here is the trick that worked well for me. According to my experience, I figured out that the first thing you must do is gather information as much as you can about opportunities by asking around your own network. However, you should be selective when contacting various people as you need to contact the right kind of people who has accurate information about these opportunities. As I understood, the people who have already migrated to Singapore and living there, have the most accurate information that would help to guide you on your path. Ideally, these people would be Sri Lankan professors, doctors, and lecturers who are already living in Singapore. If you don't have such connections with you, try speaking with your faculty supervisors, university advisors, and career counselors. They will guide you about the openings and how to process an Internship opportunity.
What you will get out of an internship?
Strong confidence:
You will eventually build up your confidence from day one of your internship as you get the opportunity to work with well-experienced professionals in world-class companies. This exposure will immensely nurture you in such a manner that gives you the ability to face any challenge in any Industry.
Improvement of your soft skills and technical skills:
The wide range of cutting-edge technologies that are being used in Singapore will guarantee the development of your technical skills. Likewise, the experience that you would gain will be priceless. You will be able to witness how they conduct their continuous research and development of solutions that are sometimes breakthrough innovations. As I mentioned earlier, people in Singapore are highly disciplined; therefore, you might be able to learn about the practical applications of a lot of things in their day-to-day life activities. Teamwork is a widely used approach in Singapore. Therefore, you will learn how to effectively communicate with each other, approaches for problem-solving skills, and identify your creativity while working in teams of highly skilled individuals.
An abundance of experience:
You will gain quite a lot of experience in various aspects that might vary from how a business in your chosen field runs, how to take part in professional meetings, and how to perform assigned tasks in real-world scenarios. Moreover, there will always be countless approaches to learning new things on a daily basis.
Grow your Network:
It is a guaranteed fact you will be able to build your professional network once you get there. While you are working and living in Singapore, you will meet quite a lot of Professors, Doctors, Lecturers, Engineers, Ph.D. or MSc students. If you try you can open many doors with the help of them.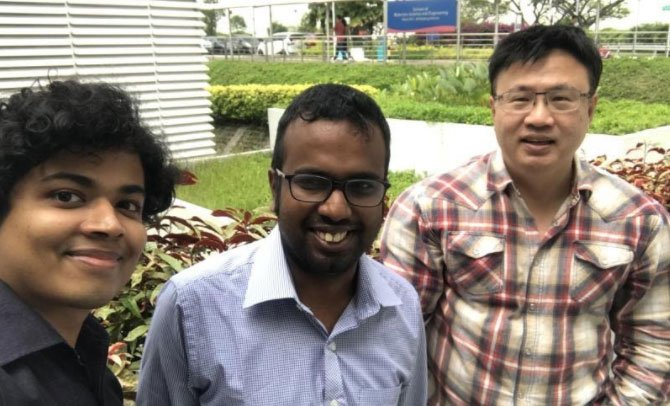 With NTU Professor Ng Wee Keong and Ph.D. Candidate Supun Tharaka
Job opportunities:
The Internship experience I got from Nanyang Technological University, Singapore was one of the key success factors that pushed me forward in my journey to become a Senior Software Engineer. I continue to experience the benefits of the internship I followed. Hence, it is guaranteed that you can achieve your dream job comfortably by using the .
At Cyber security research center
Get more opportunities:
I have supported three workshops on Virtual reality conducted by Dr. Newton Fernando. This was for Singapore's school children and for graduating students. I have done tutorial sessions and provided instructions on how to use Unity 3D and VR. Not only that, by growing an idea of Dr. Newton Fernando I had the chance to do my final year project successfully. Also, published it as a research paper at two International conferences.
Unity 3D workshops group photo
Unity 3D workshops
Working with Professors and research fellows is a unique experience that we can't get in Companies.
Conclusion
Singapore Internship is a great way to explore different career paths and specializations that suit individual interests. Our Sri Lankan community is always open to help when getting and involving there. With exposure to the latest tech stacks and highly skilled professionals, you can achieve your life and career goals easily.